Be a Smart Salon Owner. Don't Buy Wrong, Buy Right at AB Salon Equipment.
Please have last 5 digits of SKU# ready when calling.
Please call us now for your best price on items tagged 'MAP'.
MAP 'Make A Phone-call'® for Best Price
Water Wonders Designer Series Fountains
The Hanging Slate fountain combines genuine multi-color Indian Rajah Slate with water flowing passed polished river rock w/Copper Patina frame creating a soothing sound and awesome focal point for any room. Engineered with Bluworld's splash-free design and featuring the new *NSI Slate, this water feature arrives to you completely assembled; simply hang on the wall per instructions.*NSI Slate- Our special process shears a layer of genuine Indian Raja Slate and fuses it to a composite material with the same chipped edge technique as slab slate. They are indistinguishable from a thick slab of slate. All the beauty is retained and the weight is reduced by over 90%. *Please note that these units are handmade and measurements may vary slightly. Texture and color of the copper and slate may also vary slightly with each fountain.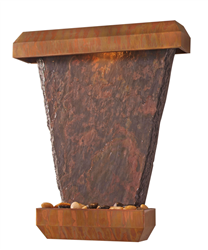 SKU: 45-92-83608
Minimum Advertised Price (MAP):
$795.00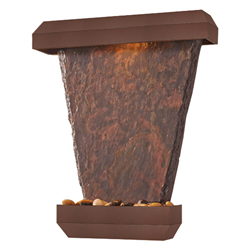 SKU: 45-92-84396
Minimum Advertised Price (MAP):
$695.00