Be a Smart Salon Owner. Don't Buy Wrong, Buy Right at AB Salon Equipment.
Please have last 5 digits of SKU# ready when calling.
Please call us now for your best price on items tagged 'MAP'.
MAP 'Make A Phone-call'® for Best Price
Collins QSE 9020 Continental All Purpose Chair
| Weight: 108.00 lbs.


On Purchases Over $1000
Minimum Advertised Price (MAP):
$1,399.00
MAP Means 'Make A Phone-call' for Best Price
FREE SHIPPING! (Excludes Alaska and Hawaii)
The product would ship approximately on 08/06/2019
Collins QSE 9020 Continental Hydraulic All Purpose Chair w/ Logo Footrest & Heavy Duty Base
All Purpose / Barber Chair
Padded & upholstered seat, back, & armrest
Chrome armsupports and upholstered armcaps
Drop back mechanism
Logo platform footrest and double chrome calf supports
Heavy duty hydraulic base
Optional 250-9000 headrest
Available in upholstery colors
All Foot-Operated Hydraulic bases are guaranteed for seven and one-half years from the date of purchase



Reclining mechanisms, Comfortaire dryer motors & hoods, Comfort Zone mats, and Collins ABS shampoo bowls are guaranteed for five years from the date of purchase.



All remaining components not specified by another warranty, unless noted otherwise, are guaranteed for a period of one year from the date of purchase.



Client is responsible for warranty return shipping to manufacturer for warranty repairs. Normal wear and tear is not covered under warranty. Core charge may apply.



These guarantees apply only to the original purchaser and do not apply to damage caused by water or fire, discoloration, fading, or staining of fabrics or laminates, or where there is evidence of improper plumbing or installation, tampering, mishandling, abuse, or misuse of the equipment. The company recommends that plumbing and electrical work be done by reputable and licensed professionals who are familiar with the local building codes.

View the PDF documentation below for detailed product specifications:
NOTE: Monitors and device screens may vary the color hue slightly and patterns may appear larger than actual size. Color samples available upon request
indicates additional cost and longer lead times.
Related Products
3 Total Related Products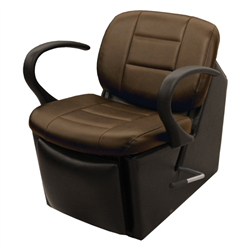 Collins QSE 12ES Kelsey 59 Electric Shampoo Chair
FREE SHIPPING! (Excludes Alaska and Hawaii)